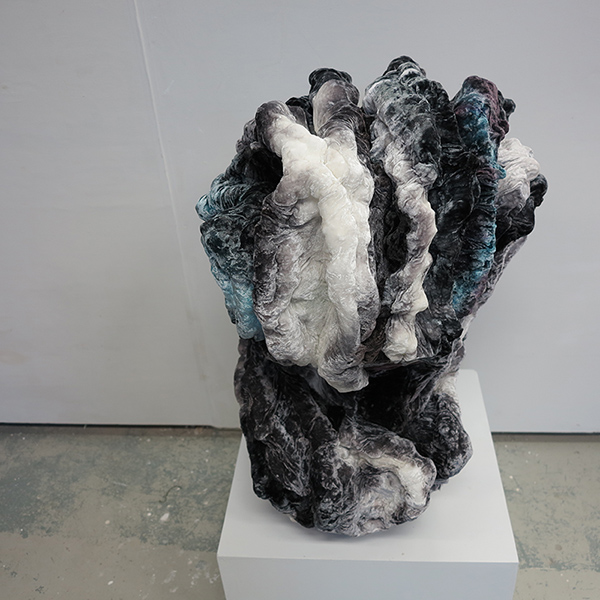 Polder, 2021
textile, pu foam
75 x 50 x 50 cm
Zijde fluweel gekleurd, met textielverf

Polder
Begin 70er jaren zag ik op televisie een programma over een groep kunstenaars die te gast waren bij, de toentertijd in de kunstwereld zeer bekende, boer Albert Waalkens in het Groningse Finsterwolde. Kunstenaars van over de hele wereld logeerden daar om er hun avant-gardistische kunstprojecten te realiseren. Op onze kleine zwart-wit televisie zag ik hoe er pu-foam in de voren van de Groningse kleiakkers werd gegoten en ik was stomverbaasd. Mijn fascinatie voor Landart was geboren, evenals de fascinatie voor de paradox tussen het natuurlijke en het onnatuurlijke. Het werk Polder refereert aan jeugdherinneringen, maar ook aan akkers in de oude zeeklei van de Noord-Hollandse polderlandschappen. Grillige sporen van pu-foam gingen min of meer ongecontroleerd hun eigen gang. Ik bedekte ze met zijde-fluweel, tie-dye geverfd in kleuren die mij herinnerden aan de kleiakkers van de polders. Een verbintenis tussen natuur en kunstmatigheid.
Polder
In the early 1970s I saw a program on television about a group of artists who were guests of the farmer Albert Waalkens in Finsterwolde, Groningen, who was very well known in the art world at the time. Artists from all over the world stayed there to realize their avant-garde art projects. On our small black and white television I saw how PU foam was poured into the furrows of the Groningen clay fields and I was stunned. My fascination for land art was born, as was the fascination for the paradox between the natural and the unnatural. The work Polder refers to childhood memories, but also to fields in the old sea clay of the North Holland polder landscapes. Erratic traces of pu-foam went their own way more or less uncontrollably. I covered them with silk velvet, tie-dye dyed in colors that reminded me of the clay fields of the polders. A union between nature and artificiality.
back